Setiap hari Jumat, saya dan teman hampir selalu makan di luar pas jam istirahat. Bukan suatu kewajiban sih, hanya saja kami sudah terbiasa saja. Bisa dibilang hari Jumat itu sudah setengah libur, karena sudah mau wiken kan? Jadi kerjaan pun dikebut secepatnya biar sempat kalau mau keluar makan agak lama.
Okay. Kali ini saya dan dua orang teman saya jalan ke Pacific Place Mall. PPM ini termasuk salah satu mall terbaru di Jakarta, dan juga salah satu mall high end. Namanya cukup terkenal, apalagi kemarin sempat ada kasus pembunuhan seorang wanita di sini ya. **but itu gak usah dibahas ya.. yang belum pernah dengar kasusnya bisa gugling aja.
Salah satu keunikan mall ini adalah, adanya eskalator panjang yang langsung bisa melampaui dua lantai, seperti juga yang ada di mal Senayan City & Grand Indonesia. Saya suka main kesini. Bukan untuk shopping lho, kalau shopping disini bisa bangkrut berbulan-bulan gak makan :D. Sering kesini kalau saya lagi pengen Haagen Dazs atau kalau hubby lagi pengen makan di Imae.
Di lt. 6 ada tempat bermain modern untuk anak-anak, Kidzania. Udah pada tahu Kidzania kan? Itu tempat bermain yang konsepnya adalah bermain menjadi profesi orang dewasa. Jadi di dalamnya dibangun replika kota persis seperti sungguhan. Anak-anak bisa jadi dokter, pilot, pembeli, dll. Tiket masuknya lumayan mahal, kalau anak-anak 100rb, orang dewasa 15orb, ya sekitar segituanlah untuk hari libur.
Lalu tadi siang kami makan dimana?
Karena kami bertiga punya campuran darah Italy, kami memutuskan untuk makan di The Spaghetti House.
Tempatnya agak sempit sih, jarak meja kursi terlalu pas. Saya sampai beberapa kali menginjak kaki teman saya di depan. Dengan kata lain, yang bodynya gede rada susah kalo mau duduk di sofa, karena masuknya aja setengah mati bo'.
Saya tadi order Spaghetti Beef Black Paper, yang lain pesan Spaghetti Tuna, dan satu lagi saya lupa nama lengkap menunya, Bacon Potatoes ato apa gitulah, yang pasti isinya potato wedges plus potongan daging kecil-kecil dan bawang bombay. Renyah!
Here's the skrinsut.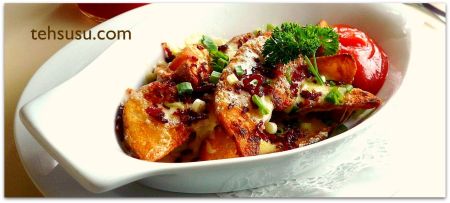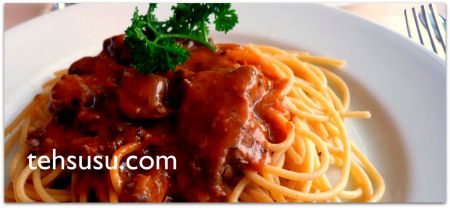 Well, buat saya yang aslinya gak begitu doyan spaghetti, spaghettinya TSH ini memang enak banged. Empuk di lidah. Porsinya juga pas, tidak terlalu banyak, dan juga tidak terlalu sedikit. Jadi saat berdiri untuk pulang, tidak perlu tahan perut karena takut kelihatan buncit. 😀