Kemarin malam sepulang dari kantor saya ke sebuah salon franchise di Buaran Plaza, sebuah plaza kecil di dekat rumah. Sekitar jam tujuhan gitu, jadi pengen creambath lah ceritanya, secara sudah lama sekali gak creambath ke salon.
Saat masuk ke salon, oleh resepsionis saya diberi pekerja cowok. Masih muda, berpakaian hitam-hitam seperti yang lainnya. Dia bekerja dengan baik dan sabar, tidak buru-buru, dan juga tidak kasar.
Well, saya sebenarnya penasaran kenapa cowok-cowok ini memilih kerja di salon? I mean, mereka ini benar-benar cowok, bukan banci, and most of all kelihatannya juga hetero.
Saya tahu beberapa hairdresser di salon yang merupakan lelaki tulen, mereka sudah menikah dan punya anak. Bahkan ada yang istrinya juga kerja di salon itu. Para hairdresser ini kalau bicara juga biasa saja, tidak terlihat kemayu or heboh. Standar saja seperti lelaki. Gayanya ya mirip-miriplah sama tukang cukur di Barbershop, bedanya kalau di salon universal begini mereka tidak pegang piso cukur yang menyeramkan itu. Yang kalau di film-film barat, bisa sekaligus motong leher. Hiihh..!
Tapi keahlian mereka dalam menata rambut kok kelihatannya sedikit di atas rata-rata para hairdresser wanita ya? Entah ya kalau kalian, tapi pengalaman saya, kalau pakai hairdresser cowok, hasilnya pasti lebih bagus daripada yang cewek. Ada tuh penata rambut di salon di Medan, yang kalau nge-blow rambut doang bisa sejam, karena dia nge-blownya lembar demi lembar, sabaaar banget. Alhasil, rambut mengembang indah dan tahan lama, persis artis Hollywood :D.
Setiap salon punya penata rambut senior, yang punya tarif paling mahal. Dan lagi-lagi, pasti deh kebanyakan adalah penata rambut cowok. Kalau saya datang ke salon baru, dan saya tidak tahu harus pakai penata rambut yang mana, biasanya saya bilang saja minta yang paling bagus, lalu si resepsionis akan memanggil seorang penata rambut untuk saya. Dan cowok, tentu saja.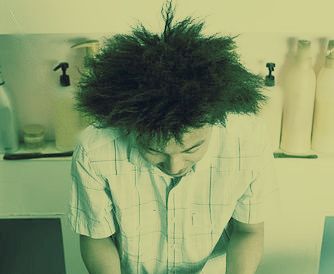 Sebenarnya sekarang ini kan kerja apa saja sah-sah saja tidak ada urusan gender di sini, tapi memang dunia salon identik dengan dunia kecantikan yang notabene didominasi oleh pelanggan perempuan. Wajar kalau banyak orang menduga bahwa pria yang bekerja di salon kebanyakan pastilah bukan pria tulen (ingat ya, pria lho, bukan bicara bencong di sini).
Terlepas dari tujuan utama mereka bekerja di salon, apakah demi mengejar pundi-pundi yang tebal, cari jodoh (cari jodoh di salon bisa dong ya), atau cari langganan (ini buat salon plus-plus), saya merasa bahwa lelaki juga punya jiwa feminin dalam diri mereka, dan sejauh mana mereka bisa mengatasi sifat feminin itu memang tergantung individunya. Mungkin saja dengan bekerja sebagai seorang dresser (apapun itu), sifat-sifat resik dan feminin itu bisa sedikit tersalurkan tanpa mengabaikan sifat macho mereka. Saya merasa bahwa sifat feminin yang dimiliki oleh para dresser pria ini justru membuat mereka jadi lebih "perfeksionis" dibanding wanita sehingga akhirnya kemampuan mereka pun bisa setara (bahkan melebihi) para dresser perempuan.
Bener gak ya? Atau barangkali adakah seorang hairdresser pria tulen yang bisa memberitahu alasannya kenapa memilih bekerja di salon?