Sebenarnya ini udah lama, tapi saya baru inget untuk mempostinganya sekarang.
Saya dikira Kiki Fatmala! Iya, Kiki Fatmalah yang itu..
Jadi gini ceritanya. Kemarin-kemarin itu waktu saya login di blog tehsusu, seperti biasa saya selalu melihat incoming link saya, ada updated terbaru gak. Dan sayapun menemukan incoming link yang aneh.
Ini skrinsut nya :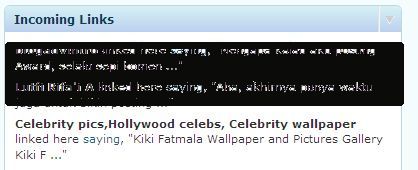 Coba baca baik-baik : "Kiki Fatmala Wallapper and Pictures Gallery…."
Saya pun heran. Loh, kapan saya bertukaran link dengan blog celebrity? Saya lalu masuk ke link yang ada disitu.
And guess what I found??!
Foto saya yang keren ini ada di situ, lengkap dengan judul di bawahnya : "Kiki Fatmala Wallpaper."

Ini skrinsutnya :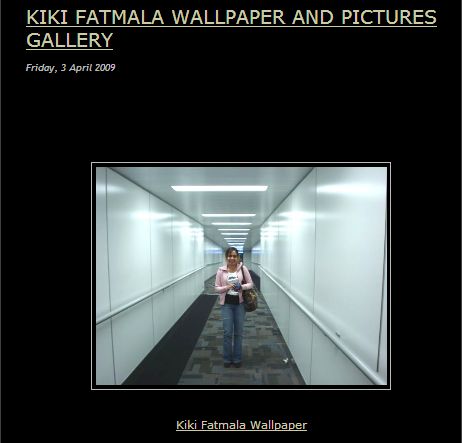 Lalu kenapa mereka bisa dapat foto saya?
Saya tebak, ini orang pasti salah sangka. Ini pasti gara-gara postingan saya disini saat mau pulang dari Perth ke Jakarta. Di situ saya cerita kalo saya sempat bersirobok dengan artis satu itu di boarding room.
Dan si pemilik blog tersebut pasti main ambil foto saya begitu saja (**okay, saya memang lupa buat watermark waktu itu) tanpa cek & recheck, bener gak sih sosok di foto itu Kiki Fatmala atau bukan.
Hebad juga si WordPress ini ya. Foto kita diambil orang, wp-nya langsung ngelapor ke kita. Ini udah 2 kali kejadian, dulu juga ada yang pernah ambil hasil jepretan saya tanpa izin, dan ketahuan juga dari incoming link. Sebenarnya sih gpp, bangga-bangga aja kalo foto kita ada yang mau pake untuk blognya. Tapi izin dulu dong, gimanapun juga itu kan hak cipta. Eh tapi ini tidak termasuk foto pribadi lho.
Hmm.. .sekarang gimana ya caranya melaporkan kalo foto itu fake? Ada yang pernah mengalami kejadian kayak gini?!

Oh iya mau lihat alamat asli blog itu, ada disini.