Pe-er itu adalah, ketika theater ada di lantai paling atas, kemudian jam tayang sudah hampir dekat, dan handphone ternyata ketinggalan di mobil! Pe-er bangeeeet karena ditambah lagi mobil parkir di parkiran East, sementara theater di gedung West. Vay, tidak mau naik lift, jadi mau gak mau kami harus turun eskalator. Lumayan juga, sepuluh menit naik turun, ditambah sepuluh menit menunggu pesanan french fries.
Alvin and The Chipmunks: The Road Chip. Ini adalah film chipmunks pertama yang akan ditonton Vay di bioskop, dan dia excited sekali. Dan berhubung baru mainnya di Blitz Megaplex, jadi ya kami pergi ke Grand Indonesia.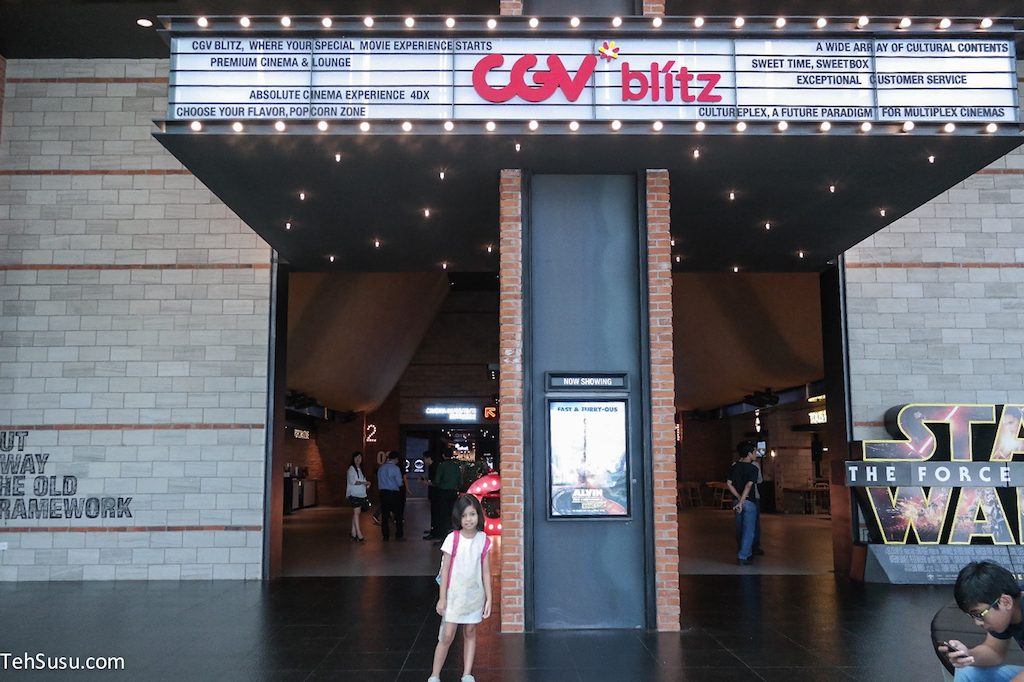 Pesanan french fries yang lama membuat dia – dan saya juga – uring-uringan. Akhirnya saya izinkan dia ke theater duluan, biar tidak ketinggalan saat film mulai. Tak lama kemudian saya menyusul dan mas-mas di depan pintu bilang, "Anaknya sudah duluan di dalam ya, Bu." Ah, syukurlah, berarti tadi dia dibantu. Ternyata Audi 8 itu lumayan besar, dan di dalam gelaaappp. Saya naik dan menemukan Vay yang berurai air mata. Looh… kenapa? Saya tanya, apa dia takut karena sendirian di dalam, gelap-gelap? Kata Vay, dia takut kalau filmnya pas mulai, Mami akan ketinggalan filmnya. Tapi saya sih curiga dia worry karena saya lama sekali munculnya. Takut malah jadi nonton sendirian. Aahh…. drama ya.
Alvin, Simon, dan Theodore. Film terbaru ini bercerita tentang perjalanan ketiganya ke Miami untuk menyusul ayah mereka, Dave, dan mencegah Dave bertunangan dengan Samantha. Roman-roman ini hanya sebagai pemanis di film saja, karena di film ini, kenakalan-kenakalan ketiga chipmunks ini sungguh mengundang tawa.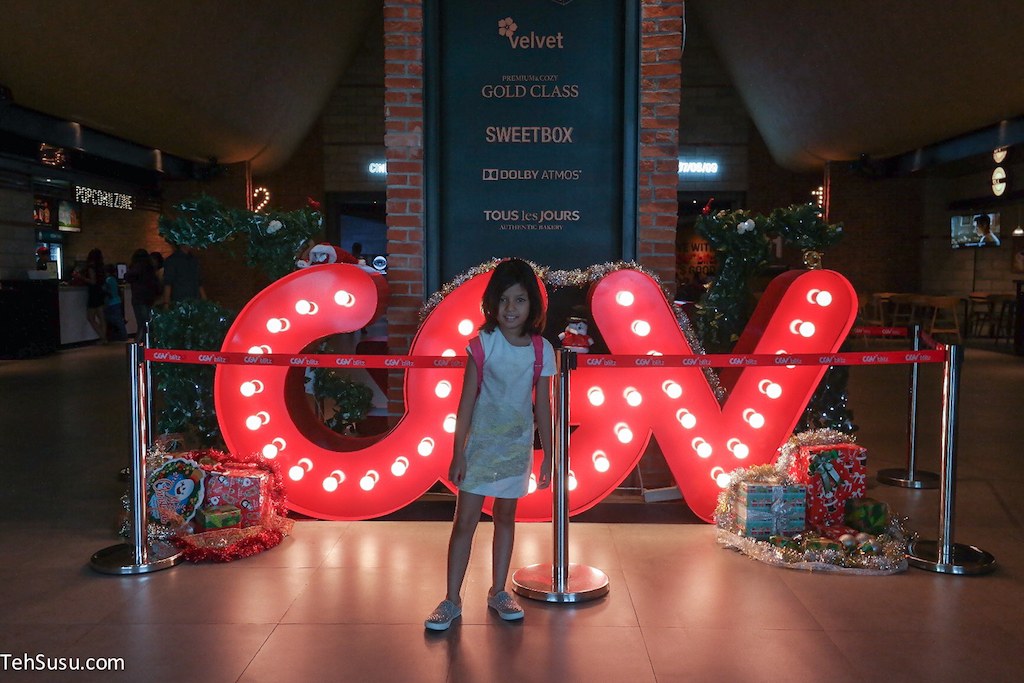 PRO
Miles, anak laki-laki Samantha yang tadinya usil dan tidak suka dengan Alvin bersaudara pada akhirnya jadi baik dan berteman baik dengan ketiganya. Akhir yang baik, mengingat di awal film, kejahilan Miles terhadap ketiga chipmunks tersebut cukup membuat kita mengernyitkan kening. Anak-anak kan cepat menyerap semua yang dilihat.
KONTRA
Di film ini awalnya banyak adegan ketika Miles membully ketiga chipmunks, seperti dilempar atau saat kepala dimasukkan ke mesin gulali. Candaan jorok juga ada sih, kayak pizza toot alias kentut, yang dilakukan Theodore, pipis dan pup saat digendong Miles. Disgusting sih. Tapi Vay waktu ditanya, apa yang berkesan tadi, dia bilang pizza toot hahaha… Pakaian-pakaian minim juga ada, tapi memang tidak terlalu banyak.
Secara umum, film ini menarik untuk ditonton. Lucu. Penonton dewasa hingga anak-anak bahkan bisa tertawa dengan joke yang ada di film ini. Amazed juga sih saat melihat Vay ketawa spontan mendengar celetukan-celetukan joke di film ini, artinya kan dia paham dengan joke itu.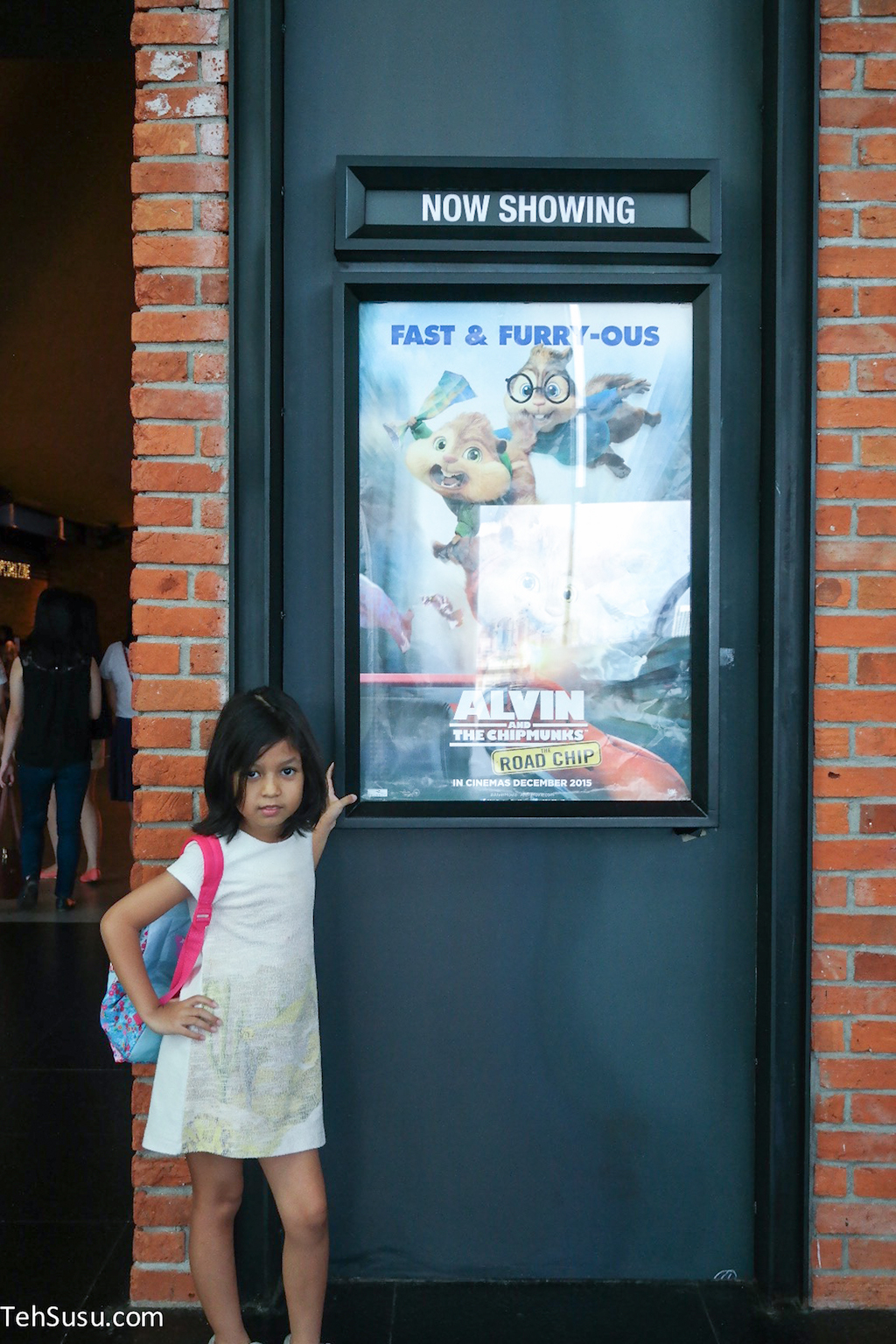 Tapi ya kalau menurut saya, musik dan dancenya kurang banyak, mengingat film-film Alvin and The Chipmunks kan selalu tentang nyanyian dan konser. Tapi memang di film ini ceritanya ketiga chipmunks ini sedang istirahat dari konser.
Butuh tontonan ringan dan menghibur? Alvin and The Chipmunks ini bisa jadi pilihan.