Jumat, 4 May2007
Malam ini saya mengundang teman-teman dekat saya untuk farewell party. Ya kan bentar lagi saya pindah, hiks.. jadi so pasti yang namanya kowbar-2 after office hour bakalan jarangggg banged kalo saya sudah tidak di Medan lagi.

Sesuai planning, kita semua kumpul di Gardenia untuk makan malam bersama. Dan seperti biasa, selalu ada acara saling mengejek, tahu dong… tetep harus ada yang jadi korban, he he he…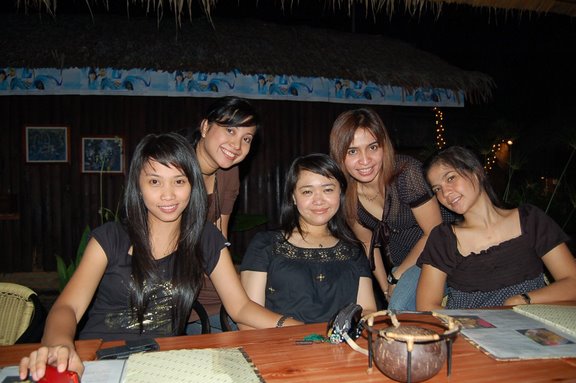 Di situ juga kita gila foto, apa dikit foto, foto trussss…. apalagi ada fotografer baru, si Uam. :p Lalu tak lama kemudian Bu Retno datang bersama Adi, anaknya yang masih SD.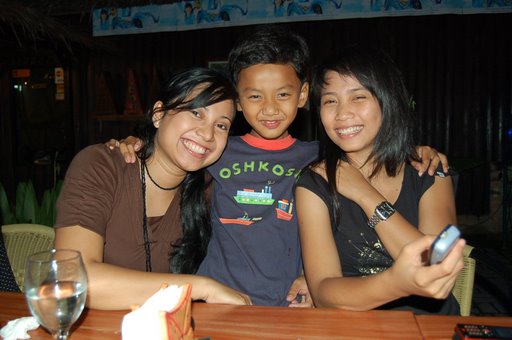 Si Adi ini kalau udah lihat cewek-cewek langsung sumringah, berseri-seri. Demen banged dah foto-foto ama cewek. Genit..! 🙂

"Dek, coba. Di antara tante-tante ini, yang mana yang paling cantik?" gitu kata mamanya ke Adi. Adi memutar-mutar telunjuknya dan mengidarkan matanya memilih satu-satu. Matilah kita!
Dan tiba-tiba saya dijebak Uam. Awalnya memang saya lihat Uam berbisik-bisik dengan penyanyi band, ternyata Am minta akustik band-nya membawakan lagu Kemesraan buat saya. Tapi kok tahu-tahu penyanyinya datang ke meja, lalu mendaulat saya untuk nyanyi bersama dia. Duh, sa malu suda….!! Semua langsung heboh. Saya dipaksa maju.
Tapi saya tetep gak mau. Malulah. Biarpun si Mbak terus membujuk saya untuk nyanyi, saya tetap menolak.
"Akh, percumalah preman.." kompor Elz. (**makanya, elz.. aq cm mau nyanyi di depan sesama preman… :p~)
Sampai si manager Gardenia — yang rambutnya skin head — datang membawakan setangkai bunga buat saya (gak jelas sebenarnya, bunga apa ya yang dia kasih itu?! Bunga rumput bukan?) "Mbak, karena Mbak mau pindah ke Jakarta, ini ada bunga dari kami…"
**psst.. sebenarnya saya gak mau nyanyi karena tidak ingin suasana berubah jadi sedih. hiks… **
Ini dia foto-foto laennya waktu di Gardenia. I'll be missing u all …. 🙁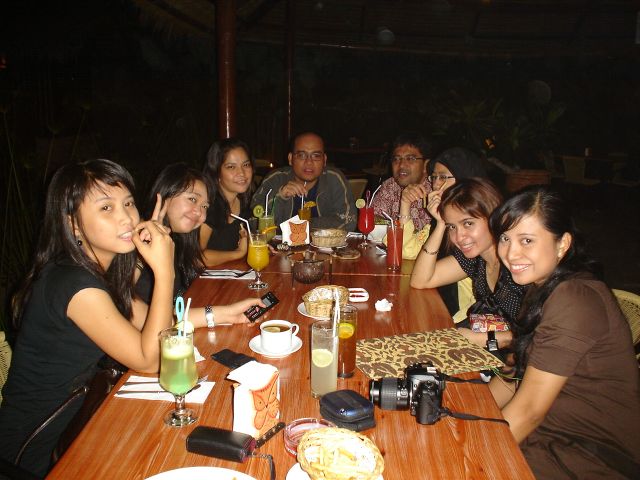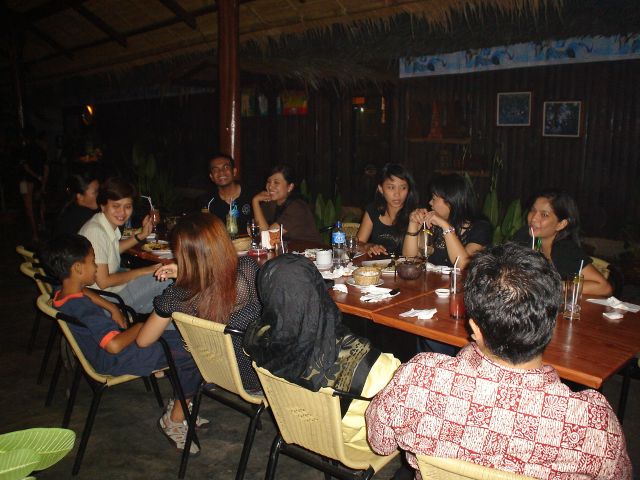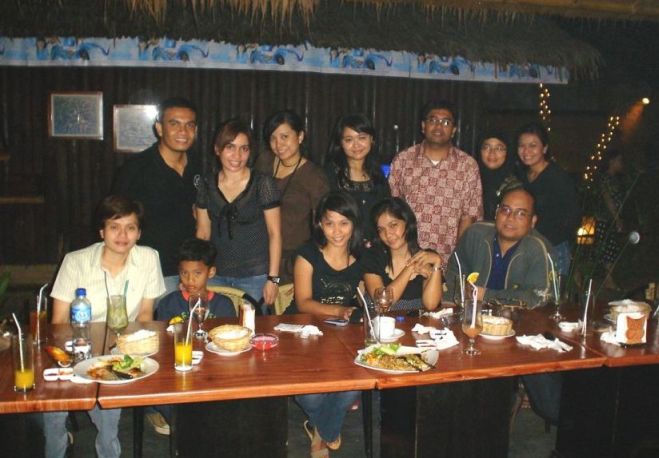 Dan malamnya, sebagian dari kami memutuskan untuk lanjut ke Station, karaokean. Saya tahu Elz ama Wid suka nyanyi, makanya saya pilih ke situ aja, biar bisa have fun go mad.
Saya tentu saja tidak lupa bawa kartu, buat taruhan (niat banged kan…). Yang kalah harus minum langsung dari botol. Elz gak mau ikutan katanya, padahal dia yang saya harapkan untuk bertanding. Cemananya kau Elz 😀.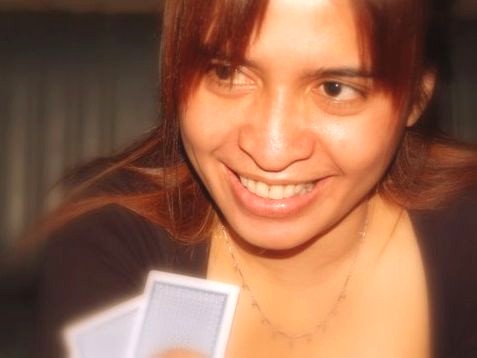 Dan mungkin saya memang ada bakat jadi gambler, ato mungkin juga ini rejeki wak haji, saya hanya kalah 2x dari sekian banyak game. :-> **plok!plok!plok!** yang laennya bolak balik kocok kartu trusss. Emang enakkk 🙂