Desember ini benar-benar bulan liburan. Tapi saya sih sebenarnya tidak liburan kemana-mana. Hanya di Jakarta saja. Because it's Christmas, and my husband, he celebrates Christmas. Dan untuk mengisi beberapa hari libur Natal ini, kemarin saya dan keluarga (minus hubby karena doi masih ngantor) pergi ke Waterbom Pantai Indah Kapuk. Sekaligus membawa Vay berenang ke kolam umum untuk pertama kalinya.
Hmm, kapan ya saya terakhir berenang ke tempat rekreasi begini? Kayaknya sih sekitar empat tahun yang lalu, ke Lippo Cikarang.
Awalnya sih sempat ragu juga mau ke Waterbom. Gara-garanya waktu googling, kok banyak cerita mengecewakan tentang tempat itu. Ada yang bilang harganya yang kelewat mahal gak sebanding dengan pelayanannya. Lalu katanya guard life-nya suka maksain pengunjung untuk sewa Locker, dll. Tiket masuknya memang termasuk mahal sih. Orang dewasa kena charge Rp180.000 & anak-anak 2-12 tahun di-charge Rp.120.000 untuk hari libur.
Saya sempat mikir untuk pergi ke kolam lain yang dulu sering saya datangi, karena lebih murah sedikit. Karena inti dari acara rekreasi ini adalah : membawa Vay bergaul sebanyak-banyaknya, dan mengajarnya bermain di kolam cetek. Tapi hubby bilang, udah ke Waterbom saja. Kalo ke kolam yang lama itu, kolamnya pasti penuh pipis anak-anak (hahahaha… kejam deh tuduhannya). Belum lagi di sana pasti ramainya minta ampun, lebih banyak manusianya daripada air. Hubby juga bilang, belum tentu kata orang-orang di internet itu benar, kan yang datang ke sana macam-macam orangnya. Ini hanya masalah cocok-cocokan aja.
Ya sudah. Saya juga mikir, lah kenapa gue jadi hitung-hitungan banged? Wong yang bayar juga laki gue, hahahahaa….
Nah, kebetulan sehari sebelumnya saya baru dengar di I-Radio bahwa ada promosi BCA Card Pay 1 For 2 di Waterbom. Pas bener, saya kan punya Debit BCA. Lumayan kan bisa menghemat… Jadilah pilihan kami tetap di Waterbom.
Ternyata kekhawatiran itu tidak terbukti. Tempatnya bagus dan lumayan asri. Banyak Guard dan Sekuriti yang berjaga jadi kita senantiasa terjaga. Mereka juga ramah dan helpfull, dan cukup tegas dalam menjalankan kerjaannya. Misalnya, kalau mau naik The Hairpin, Wajib Berpakaian Renang. Karena kalau pakai kaos, dikhawatirkan kaosnya akan tertarik sedotan airnya. Begitu kata si masnya, tahu deh benar pa kagak.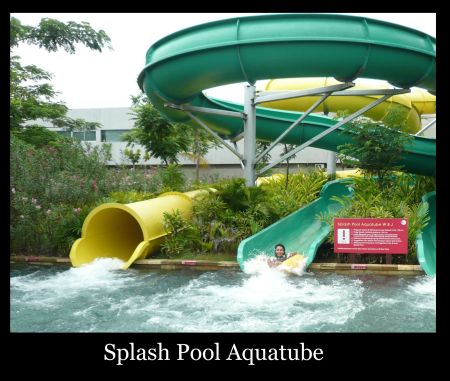 Biar lebih nyaman meletakkan barang-barang bawaan, kami menyewa Gazebo seharga Rp. 135.000, letaknya agak ke belakang, pas di wilayah kolam anak-anak. Syukur deh datang pagian — jam 11 — jadi masih bisa dapat Gazebo di situ. Jadi anak bisa main di kolam, kita bisa mengawasi dari Gazebo. Kolam kecil itu dipenuhi bola-bola plastik sehingga anak-anak (dan beberapa abege yang sepertinya "menggelar arisan" di tengah kolam.. ck ck ck…) betah main di dalam.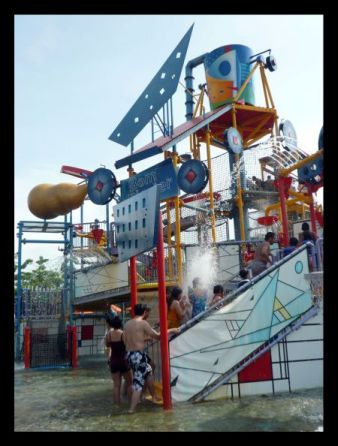 Well, sebenarnya anak saya belum begitu enjoy main di kolam umum. Belum terbiasa. Ngambek mulu, maunya maminya ada di dekatnya terus. Biarpun ada opung dan namborunya, tetap saja nangis kalau gak ada maminya. Yeah tapi itu hal yang wajar sih, soalnya selama ini dia berenang cuma di rumah, di kolam dewasa pula (eh tapi sambil dipegang sih.. berenang sendiri ya belum bisa dong..) jadi ketika diajak ke kolam cetek yang penuh orang, dia kelihatan kurang nyaman. Apalagi waktu anak-anak yang lebih besar main ciprat-cipratan dan lompat-lompatan, Vay ngambek dan nangis ketika cipratan itu terkena dirinya. Tapi menjelang sore, dia mau juga saya bawa masuk ke kolam itu. Biasa, awal-awal aja gengsi, lama-lama ketagihan..
Sekitar jam tiga, kami pun pulang. Rasanya sih belum cukup puas untuk main di situ. Saya kan udah lama gak main beginian hehehe… Dulu jamannya muda (halahhh… ngaku nih udah tua :D), paling hobi menguji adrenalin dengan ikut arena permainan yang menguji nyali di Ancol dan Dufan. Jadi kalau kek Waterbom ini sih sebenarnya gak serem-serem amat… Halah belagu, padahal tadi waktu naik The Hairpin, menjerit juga =))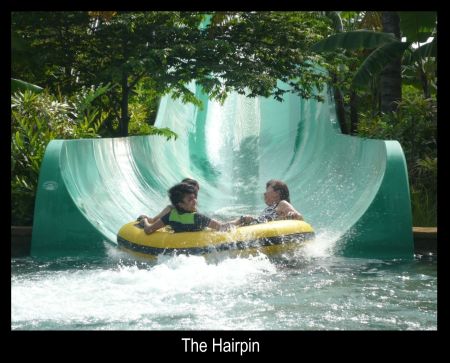 Bulan depan kesini lagi ahhhhhhhh……………. tapi kalo hubby setuju. Kan bagian pembayaran di dia… 😀
Anyway, Merry Christmas buat semua teman yang merayakan… 🙂