Satu pertanyaan yang selalu dicetuskan setiap kali kita dan teman-teman sedang menentukan tempat untuk meet up adalah: tempatnya bagus gak buat foto-foto? Tempat yang bagus, nyaman, menu yang lengkap dan cocok di lidah, didukung dengan spot-spot yang layak menjadi pembingkai foto untuk kemudian diupload ke social media, khususnya Instagram, sudah pasti harus masuk di dalam lis tempat favorit.
Jadi ya begitulah, ketika saya harus mencari tempat untuk acara kumpul sore di weekend, yang bisa mengakomodir kebutuhan kami semua akan cita rasa – rasa di mulut dan juga rasa di hati – The Pier muncul daftar tempat pilihan. Berada di dalam komplek Taman Impian Jaya Ancol, tempat ini ada di Jalan Pantai Indah, Putri Duyung.
Ada beberapa hal yang saya catat sebagai rekomendasi kenapa The Pier cocok jadi tempat bersantai bersama teman dan keluarga, sambil bikin foto keren untuk eksis di social media.
Letaknya di pinggir pantai
Kalau ke sini, coba minta tempat atau meja di daerah dermaga. Di The Pier ada dua dermaga yang suasananya asyik banget. Semakin sore, gradasi warna dari matahari yang tenggelam membuat pantulan warna yang cantik di permukaan air laut. Tentu saja tak akan seindah air laut di pantai di Bali atau di Gili Air, tapi saya bisa bilang tempat ini lumayan.
Interiornya unik
Interior di sini kalau menurut saya, memanjakan mata dan hati. The Pier mengangkat konsep restoran seolah kapal pesiar yang sedang berlabuh. Jadi selain beberapa area yang bentuknya berupa geladak, di situ juga ada bar kecil dengan kolam kecil sedalam betis orang dewasa.
(Bayangan saya, mungkin itu untuk mereka yang hangover, jadi kalau jatuh langsung ke kolam. Aman.)
Di tengah lantai kayu di dermaga, juga ada dua bulatan kaca tebal yang memungkinkan kita untuk memandang isi bawah laut. Ada ikan tentu saja, tapi kecil-kecil.
(Saya memilih untuk tidak berdiri lama-lama di atasnya.)
Pelengkap romantisme tepi pantai, ada lilin-lilin di gelas yang juga bagus untuk jadi objek foto.
Bagi yang tidak suka duduk di luar juga bisa pilih tempat di dalam – kalau di kapal istilahnya anjungan kali ya. Nona Vay lebih suka di dalam (dia mencari AC tepatnya), dengan cueknya mojok sambil YouTube-ing. Kalau sudah bosan (bosan nungguin kita selesai) dia akan naik ke lantai atas restoran lalu turun lagi ke dermaga. Menjelajah.
Oh ya. Para pegawai di sini berbaju kelasi, so siapa yang mau foto bareng mereka sepertinya mereka gak akan keberatan.
Appetizer dan dessert yang cute
Bila ingin menikmati Sabtu sore yang lebih manis, jangan ragu untuk memesan menu yang bukan hanya enak di lidah tapi juga cantik difoto. The Pier punya beberapa pilihan cemilan serta dessert. Dalam kesempatan kemarin, kami mengorder pizza, fish platter, calamari, kemudian minuman. Some of us memesan bir, kemudian ada yang pesan milkshake, atau menu andalan ice lychee tea.
Sayangnya kemarin mereka tidak bisa menyediakan kopi dengan alasan mesin kopinya rusak.
(Restoran keren kok gak ada kopi, begitulah komplen saya ke pegawainya)
(Jadi gak bisa deh bikin foto coffee dengan art latte)
Alhasil, karena beberapa dari kami butuh kopi (banget), seorang dari rombongan pergi ke kedai kopi franchise yang ada di depan pintu masuk Ancol. Beli dan dibawa ke The Pier.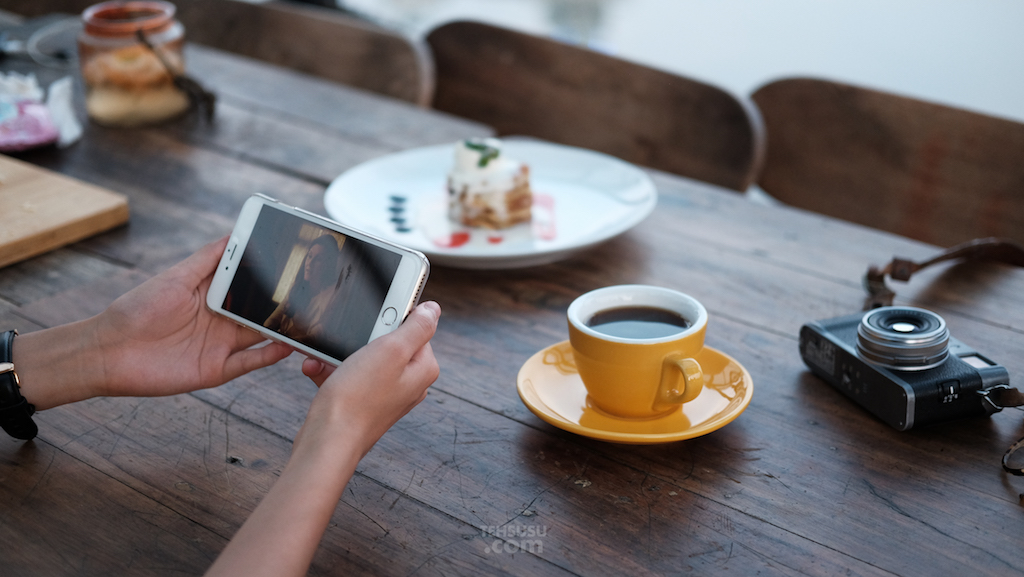 Kopi yang kami beli memang bukan hanya untuk diminum tapi juga untuk property foto. Seperti yang saya tuliskan di awal, kami ke sana untuk memuaskan rasa di hati. Selain untuk mengobrol tentang apapun, juga sebagai bagian dari hunting photo yang sudah kami lakukan sejak pagi. Kami bahkan membawa taplak khusus, cangkir dan mug, serta pattern paper untuk alas foto ala flat lays.
(Niat)
One fine day tentu saja. Semakin malam tempat ini semakin nyaman dengan lampu temaramnya.
Dan inilah kami. Sebagian. Sebagian lagi sudah pulang duluan.
-ZD-