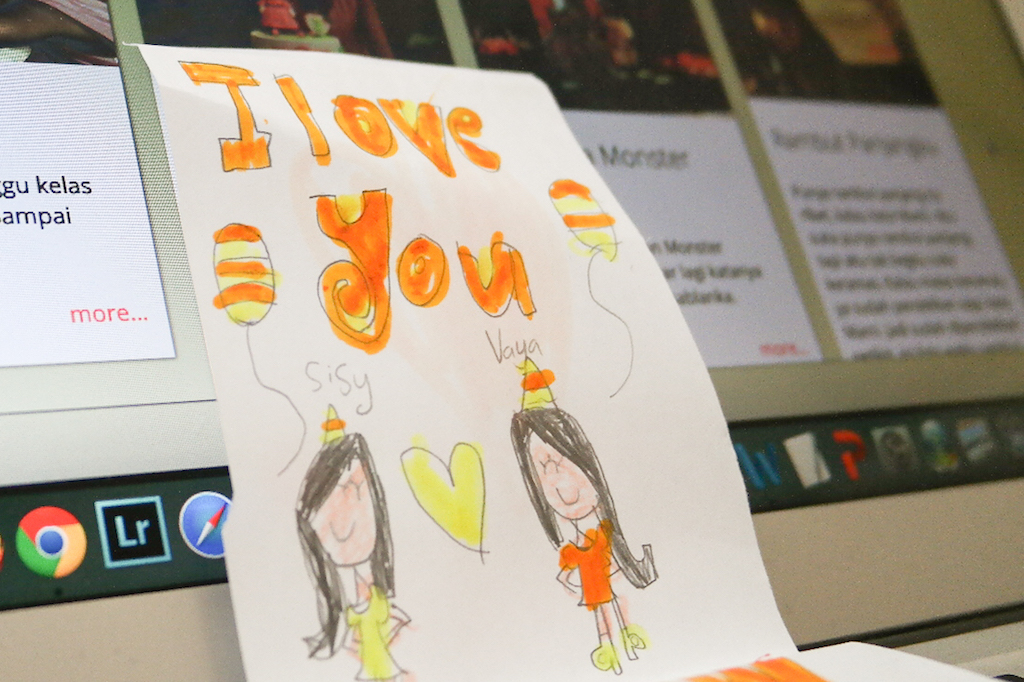 Sejak beberapa waktu lalu, saya sudah berkeinginan untuk escape ketika hari ulang tahun tiba. Pertama, ingin ke Medan. Karena kangen mau dekat-dekat dan manja-manja sama orang tua, alias dimasakin spesial, sesuatu yang selalu menjadi ciri khas perayaan di keluarga kami dari tahun ke tahun. I kinda missed that thing, tentu saja, karena sejak pindah ke Jakarta tak pernah merasakan selebrasi ulang tahun dengan masakan spesial, dirayakan di rumah bersama orang tua.
Kemudian, saya ingin escape dekat-dekat saja deh, yang bisa satu dua hari cuti gitu. Namun, again, kondisi berkata lain. Di kantor sedang tinggi sekali loadnya dan sangat tidak adil rasanya kalau saya cuti. Bahkan ya, sekadar pergi keluar kantor untuk menghadiri acara pelepasan Blogger Camp beberapa waktu lalu saja tidak bisa, padahal saya sudah jadi salah satu Juri untuk salah satu kompetisi di event tersebut. Jadi juri kok ya gak hadir. Mungkin begitulah bisik-bisik tanya di luar sana. Baru bisa keluar sekejap ketika berkumpul dengan para blogger perempuan di Pacific Place. It is a refreshing moment! Lamaaaa sekali rasanya tak berkumpul dengan sesama blogger.
Eniwei. Akhirnya saya memang mengambil waktu sehari, untuk melakukan semacam perenungan, di hari ulang tahun saya. Yaitu hari ini, 4 November. Minta izin untuk mobile office, so I can more focus on my work and my birthday wishes. Yeah, mungkin jadi jauh lebih low profile sih dibandingkan bila saya ke kantor dan kemudian diworo-woro kemana-mana sehingga menimbulkan kehebohan 5-10 menit yang kemudian berakhir senyap. However, tentu saja tetap happy dan bahagia dengan banyaknya ucapan selamat serta doa dari teman-teman. Itu tanda bahwa mereka perhatian, kan?
Seperti tahun lalu, tahun ini Vay juga mempersiapkan hadiah spesial, yaitu hasil karyanya. Sepulang sekolah, dimana khusus hari ini saya menjemputnya, dia dengan cepat mengambil kertas untuk menggambar sesuatu, meski sudah terkantuk-kantuk dan kelihatan lelah. Katanya saya tidak boleh lihat dulu sampai dia selesai, dan sesekali dia terdiam, katanya sedang thingking, mencari inspirasi. It's so heart warming, she is soooo my angel. Dia tanya, ulang tahun keberapa, Mami? Dan saya jawab dengan jujur. Tapi hanya ke dia, ya! Tidak untuk konsumsi publik. LOL.
Namun juga ada hadiah spesial lainnya, yang tidak disangka-sangka bahwa itu akhirnya datang pas di bulan ulang tahun saya, adalah sesuatu yang sangat saya syukuri. Ini adalah perpaduan dari sebuah kerja keras, kesabaran, serta rezeki dari Yang Maha Memutuskan. Semoga menjadi berkah, amin!