Ah, Jogja yang istimewa. Salah satu destinasi eksotis yang masuk daftar tiga besar tujuan favorit para pelancong. Entah kenapa, kalau ada ajakan ke Jogja, sulit buat saya menolak. Kota ini terlalu unik dan juga ngangenin untuk terus dikunjungi.
Mungkin salah satu reasonnya bagi penduduk pulau Jawa adalah lokasinya yang lebih dekat hingga mudah didatangi (mau naik mobil, naik kereta api, naik pesawat, bebaslah). Tapi saat saya ke Jogja kemarin, ada banyak pelancong dengan macam logat, yang membuktikan bahwa tak masalah meski harus naik pesawat untuk menyeberang ke pulau Jawa, menuju Jogja.
Buat saya pribadi, ada banyak tempat wisata di Jogja yang sangat menarik untuk dikunjungi.
Salah satunya adalah Gumuk Pasir Parangkusumo, yang terletak di Kabupaten Bantul. Sebuah tempat luas yang semua permukaannya adalah gundukan pasir. Tapi bukan gundukan pasir biasa, lho. Gundukan pasir yang ada di Jogjakarta ini jenisnya istimewa.
(Syukurlah saya menggunakan waktu saya selama di dalam Hiace untuk browsing mencari informasi tentang Gumuk Pasir)
Gumuk pasir itu ada beberapa tipe, tipe yang bisa terbentuk di iklim basah, setengah kering dan iklim kering. Tipe gundukan pasir di Bantul ini adalah tipe "barchan" yaitu tipe gundukan pasir yang hanya bisa terbentuk di iklim kering dan setengah kering (arid dan semi-arid). Nah, gundukan pasir yang ada di Jogja adalah tipe yang langka, tipe barchan tapi iklimnya tropika basah. Secara teori, seharusnya gumuk pasir ini tidak terbentuk karena iklimnya tidak sesuai. Tapi ada. Jelas terpampang di depan mata saat saya di sana.
Katanya gumuk pasir ini berasal dari hasil erupsi Gunung Merapi yang endapannya dibawa oleh sungai-sungai di Pantai Selatan, yang kemudian seiring berjalannya waktu, tiupan angin membantu mengukir dan menumpuk tumpukan pasir ini menjadi bukit pasir yang indah. Well, begitulah kekuatan alam, menciptakan segala sesuatu begitu saja, tinggal kita makhluk hidup menikmati.
Shot through the heart
And you're to blame
You give love a bad name (bad name)
I play my part
And you play your game
You give love a bad name (bad name)
You give love
Jeritan Jon Bon Jovi menemani saat mobil kami memasuki kawasan wisata Gumuk Pasir. Sudah jam setengah lima sore, sedikit terlambat dari perhitungan, karena tak ada yang menyangka kalau sekarang Jogja sudah sangat macet. But it's OK-lah, karena semakin sore cuaca pun makin adem kan, jadi at least kita gak akan terlalu lepek.
Memang Istimewa
Istimewa. Kata ini melintas di kepala begitu kaki saya menjejak ke dalam pasir dan mulai melihat benar-benar betapa banyak gundukan pasir tinggi di depan sana, yang bisa menimbulkan ide sekilas di kepala orang, bahwa tempat ini 'sengaja' dibuat oleh manusia.
Istimewanya lagi, di sini pengunjung bisa mencoba bermain ski di atas pasir. Sandboarding. Yeah mungkin Indonesia tidak punya salju berlimpah, tapi kita punya gumuk pasir untuk bermain ski. Ihiiyy. Siapkan dana sekitar Rp150RB – Rp200RB untuk biaya sewa papan sandboarding, setelah itu bisa berski sepuasnya. Tak bisa main ski? Jangan sedih, ada pemandunya kok. Sudah dipandu masih gak bisa juga? Ya nasib. Gantilah dengan kegiatan lain, foto-foto juga bisa. Banyak spot foto yang disediakan buat pengunjung.
Saking kerennya tempat ini, Gumuk Pasir sering jadi tempat calon pengantin untuk mengambil foto prewed. Serasa di gurun sahara gitu ya. Seperti halnya kami saat ke tempat ini, kami membawa model untuk konsepan foto gurun sahara.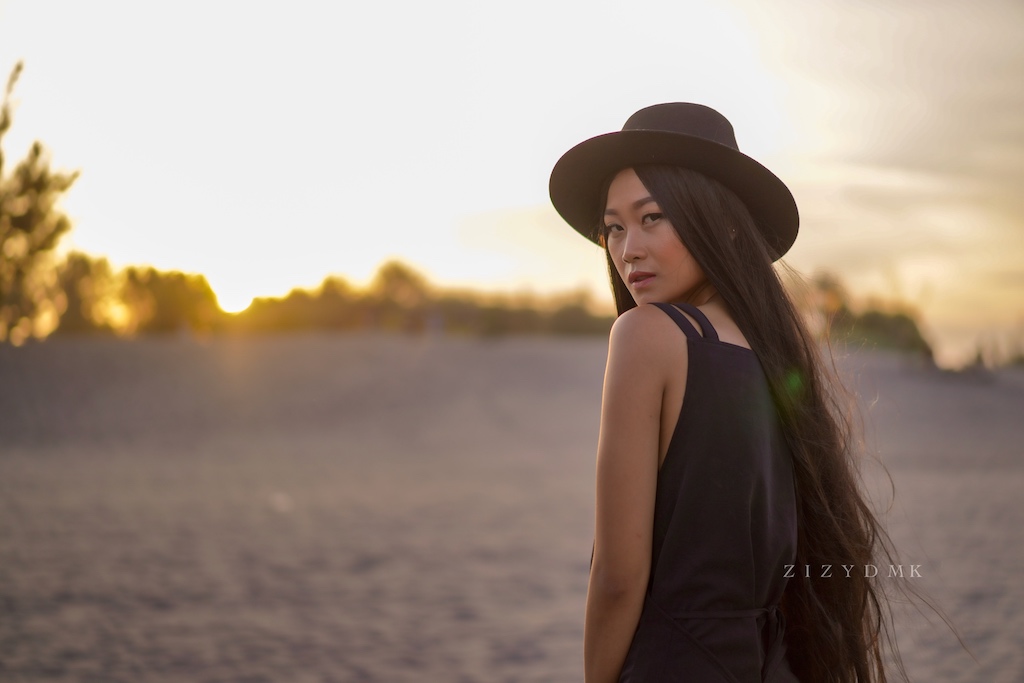 Buat pembaca baru TehSusu, please note ya kalau model cantik di foto ini bukan saya lho ya :). Saya tukang fotonya.
But it is. Memang keren banget. Kami di sana sampai jam setengah tujuh, saat sudah tidak ada penerangan apa-apa, dan bintang-bintang sudah keluar untuk bermain.
Saran Kalau Mau Ke Gumuk Pasir
Saran pertama saya kalau mau ke sini adalah menggunakan sepatu sandal dengan dilapisi kaos kaki, agar terhindar dari iritasi di jari-jari akibat gesekan dengan pasir. Tapi bila ingin langsung menjejak tanpa alas kaki juga tak masalah.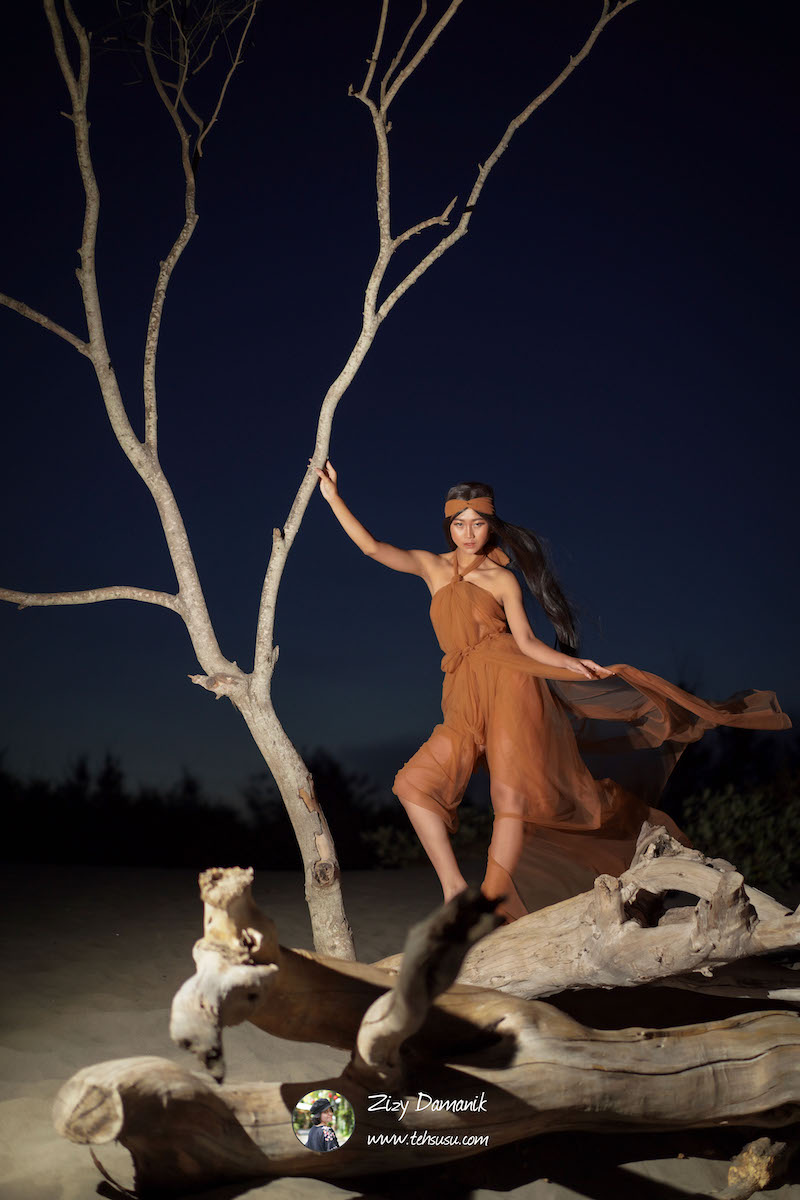 Kedua, tutup rapat-rapat tas (terutama bila juga membawa tas kamera) karena angin di sini cukup kuat dan ada banyak butiran pasir beterbangan.
Berikutnya tentu saja membekali diri dengan bekal minuman yang cukup, lalu tisu basah, handuk kecil, topi, juga antiseptik.
Eniwei, untuk naik ke pinggiran ternyata cukup repot lho. Sebabnya, setiap kali melangkah naik, kaki langsung tersuruk lagi ke dalam pasir, hahah. Jadi untuk menaiki gundukan satu setengah meter saja dibutuhkan hmmm mungkin lebih dari enam langkah.
So, kalau pembaca mau traveling ke Jogja, jangan lupa memasukkan Gumuk Pasir sebagai salah satu tempat wajib kunjung.
Seperti kata saya di atas tadi, tempat ini istimewa.
-ZD-