Hai semua, akhirnya artikel dari Krasivaya muncul lagi. So, terima kasih untuk bersedia membaca dan semoga bermanfaat! 🙂 (ZD)
---
Have you installed and played Roblox? If not, maybe after reading this article you will be interested in playing Roblox. Find out more about Roblox and how to play it, because they have over 100 million active players and it is the perfect gaming platform for all ages.
There are many Roblox YouTubers that every Roblox player should watch and subscribe to. Some YouTubers can show you how to increase your gaming skills and many more advantages. Well here is my recommendation for the best Roblox YouTubers 2020.
 Top 10 Roblox YouTubers 2020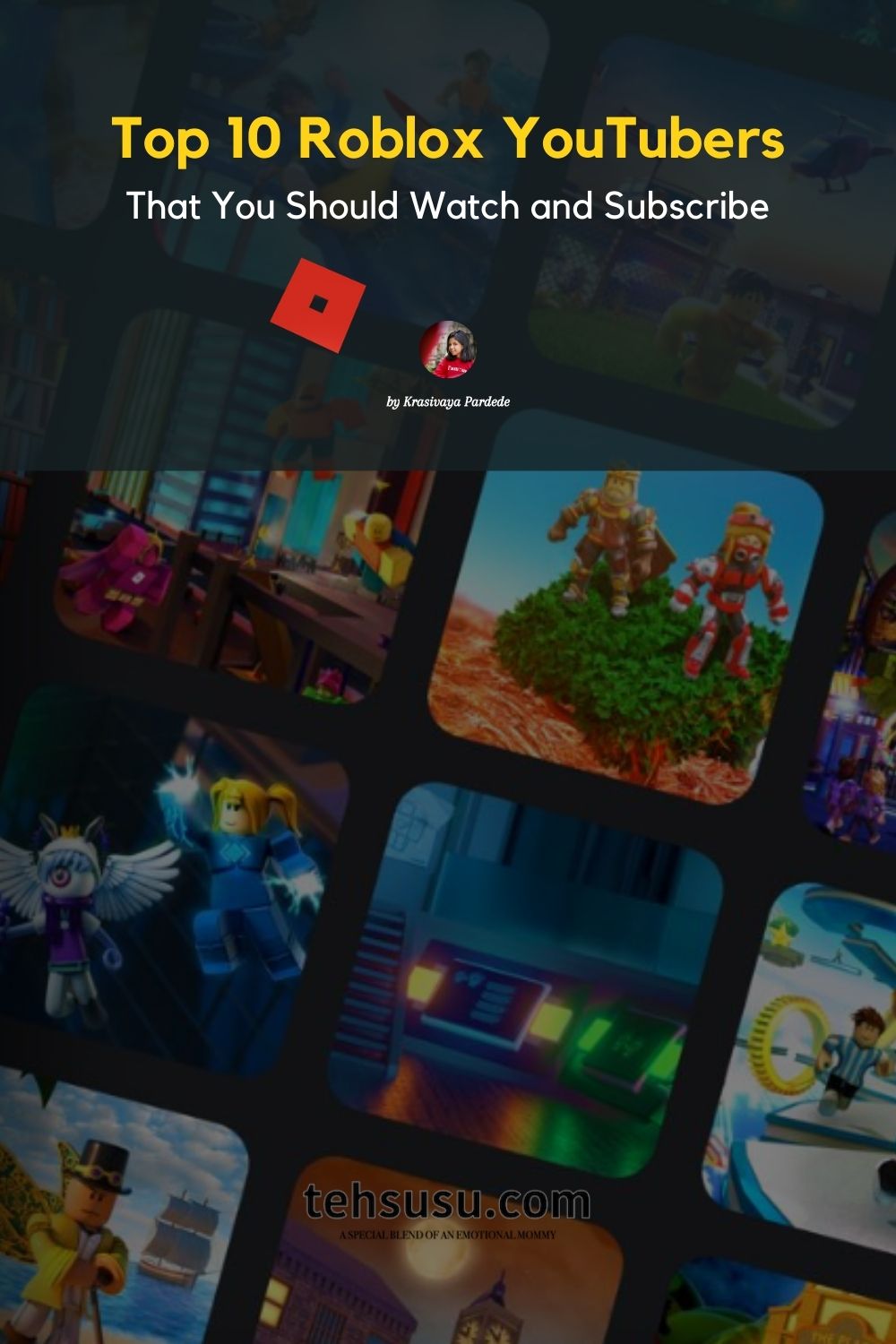 Flamingo, also known as Albertstuff, is a Roblox Youtuber with currently over 7M subscribers. He plays all sorts of fun games in Roblox. By that, I meant that he plays both underrated games and popular games. But mostly underrated ones. Most of his popular videos are him using admin commands. I like the fact that he doesn't stick to one or two games in every video of his, that way it's not as boring. And he's not flawless, nor stiff in front of the camera either. He treats us like his friends and not viewers which is the reason I really enjoy watching his videos. It might sound weird, but him calling his viewers (us) idiots, is better than any other names that other Youtubers call their viewers, maybe because it's more natural and not stiff. A little warning though, he screams a lot in his videos, so yeah. And every time I feel sad or angry or I just wanted to laugh, I always go to his channel. Because I like dark humor I guess. 🙂 [Random fact: he invented earthworm sally the dead meme]. He is not one of the richest players on Roblox for now, but he is undoubtedly quite rich because of Roblox.
If you're in the Roblox Youtube community, you should know him. Or at least you should know The Pals. Anyways, back to the point, Denis is a Roblox Youtuber with over 8M subscribers at the moment, almost at 9M. He mostly plays Obbies or Piggy inspired games. I believe some of you guys maybe play Piggy too, so if you want, go to his channel. But he also plays other games of course. He also won The Best Video Content Creator on The 7th Annual Bloxy Awards. He's one of the very first Roblox Youtubers that I started watching when I first started playing Roblox. He has over 3B views. Denis usually posts a video every single day. He's also the chill type of Youtuber which means that he won't scream every ten seconds as Albert/Flamingo does.
Poke is a Roblox Youtuber with over 4M subscribers at the moment. But I'm pretty sure that he decided to change his channel to a vlog channel, so he used his Minecraft channel for his Roblox videos that which still has 1M subscribers at the moment. Well, he plays Bloxburg (mostly I think) as far as I know. He usually makes roleplay videos with his friends such as Dylan/Hyper. I usually binge-watch his videos a lot and most of the roleplay he made are series so yeah it's pretty addicting. I watched his videos when I first played Roblox even though at the time I haven't had Robux which means that I can't play Bloxburg at the time. And he uploads a new video every two days instead of every day.
Hyper is one of Poke's friend. His real name is Dylan. He has 2M subscribers at the moment. And around 509M views. But I'm pretty sure that he decided to change his channel to a vlog channel, so he made another channel just for his Roblox videos just like Poke did which still has 500k subscribers at the moment. He usually made Bloxburg videos. Both challenges and roleplays. I enjoyed his Bloxburg videos a lot especially the ones where Poke or his little sister, also known as Ashlili, in it.
Sketch is a Roblox Youtuber with currently 3M subscribers and has approximately 1B views. He makes Roblox videos (obviously) but what game does he play? He plays all sorts of a different game, but he plays popular games, as in he doesn't play underrated games like Flamingo. He's basically Albert/Flamingo just without his face cam and dark humor. Yeah, the reason I like to watch his videos is that he usually plays really good games and I usually play them right after I watch his vids. Also, he's pretty good friends with Denis. And just like most Roblox Youtubers, he uploads a new video every single day.
InquisitorMaster is a Roblox Youtuber with over 8M subscribers at the moment, almost at 9M. She makes roleplay videos on Roblox, mostly with "The Squad" (very creative name?). But lately, she made "scary" (horror)  Roblox videos. I used to really enjoy her content and would binge-watch her videos all night. The channel is owned by Alex, a 25-year-old girl. I stopped watching her channel after "The Blonde Squad" broke up. She replaced The Blonde Squad with The Squad. I really enjoy her videos with The Blonde Squad and didn't really enjoy it as much when I watch her videos with "The Squad". But if you didn't know The Blonde Squad, I highly recommend her channel. But lately, I've discovered that dark humor (like Albert) is more suitable for me than cute roleplay stuff. She also uploads a new video every single day.
She is the best female Roblox YouTuber that I still watch till' this day (by that I meant that I have watched her for years and haven't stopped watching her channel). She usually plays Adopt Me and does challenges/roleplays in the game. 
She currently has 4M subscribers and approximately has 1B views. She sometimes plays Royale High too, even though right now, Adopt Me is her dominant game for the channel. She uploads a new video every single day just like most Roblox Youtubers.
iamSanna is a Roblox Youtuber with over 5M subscribers. Her channel is pretty similar to Leah's because they're best friends. She plays Adopt Me too, but most of her videos are challenges. I highly recommend you watch her channel. She posts twice a day so yeah, you can go to her channel if you play Adopt Me and got bored easily.
Sister Squad is another channel owned by Leah Ashe and her sister, Amber. The channel has 400k subscribers. They play various games on the channel such as Flee the Facility, Adopt Me, obbies, and many more. I personally prefer this channel over the last seven Youtube channels (basically all above except Flamingo). Since there are two players, it somehow made the videos less boring and a lot better to watch.
GamingWithKev has over 6M subscribers and around 3B views at the moment. He plays various games too. He uploads a new video every single day. His videos are mostly comedy-based so if you like funny stuff, I highly recommend this channel.
That's the end of it.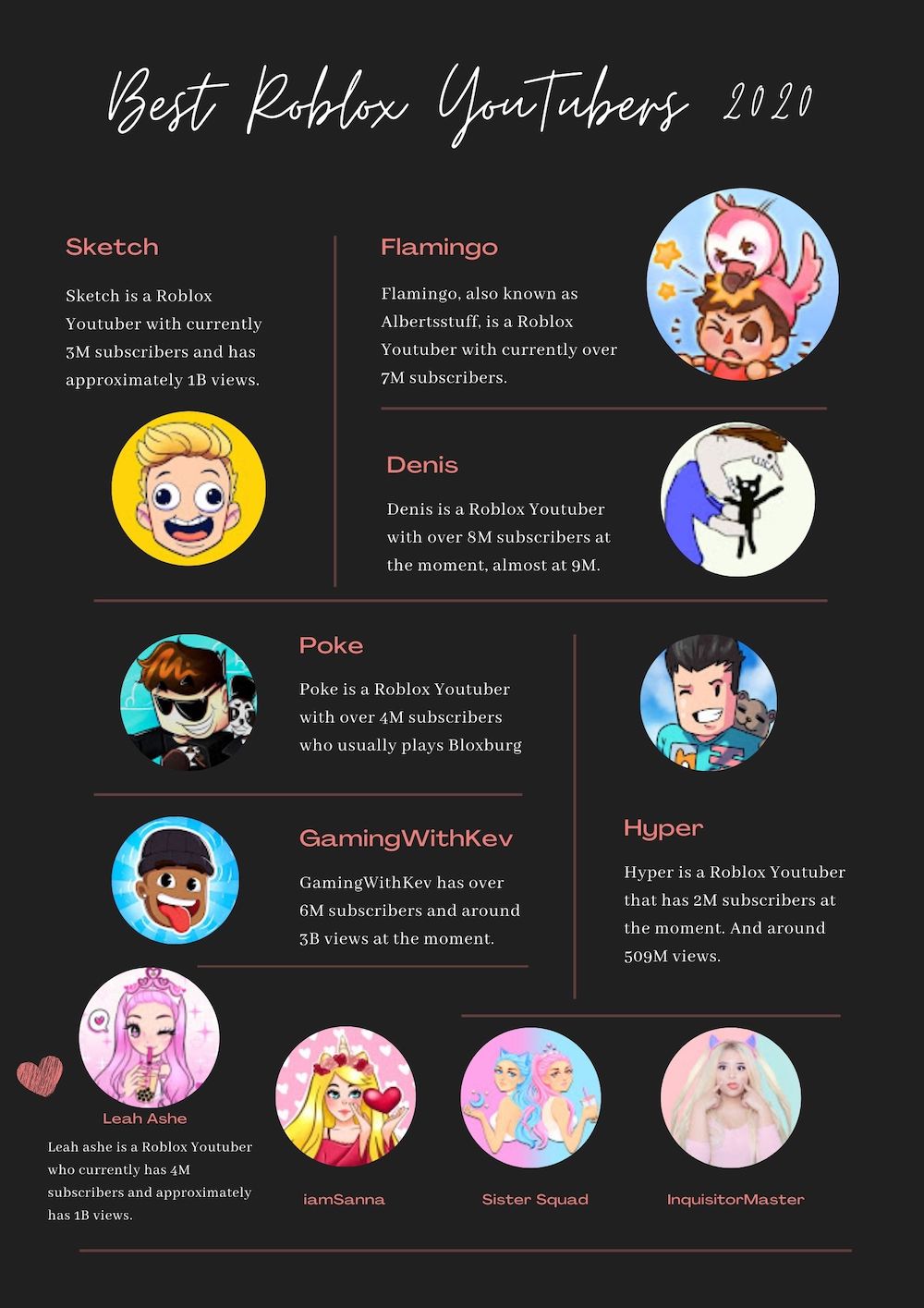 I hope this is useful somewhat. Personally, my favorites are Albert (Flamingo) and Sister Squad. But I recommend all of them.  If you have any other Roblox YouTuber recommendations, let me know in the comments. Well, I don't have anything better to say now so,
Peace.
-Krasivaya-